How I Started
I have had an interest or as some would call it an obsession with animals of all kinds as long as I can remember. Luckily for me, my parents were supportive of my brothers and I keeping all sorts of things. We started out with the usual; fish, hamsters, guinea pigs, gerbils, parakeets, etc and then transitioned into more exotics such as hedgehogs, sugar gliders.
My first taste of the joy of breeding was around the age of 6 when I started breeding dwarf hamsters and gerbils. Shortly after that I found a local pet store with an assortment of reptiles and was hooked. I had always been obsessed with dinosaurs as a young kid, and what was cooler than having your own pet dinosaur! At the age of 8 after making my parents buy me all sorts of reptile books and reading them and anything else I could get my hands on, I got my first reptile, a Three Toed Box Turtle (which I still have 22 years later), and a pair of Tiger Salamanders. Once I had those animals in my collection I started looking into how to set up their enclosures as natural as possible. I am lucky to have a father that is a very good carpenter, so we were able to build some very nice enclosures early on. I took much pride in building and designing elaborate set-ups and that was part of my joy of keeping these cool creatures.
In 1994 I was able to get what I then thought was the pinnacle of the reptile hobby; a hatchling Green Iguana. I raised the Iguana up, and after a while it started acting unhealthy, so we took it to the vet, and even though the vet could not really tell us what was wrong with it, we decided I better make some changes to the husbandry. My dad built me a huge new enclosure,and my mom helped me nurse him back to good health and I never looked back. I had that same Iguana for another 15yrs. I learned from that experience that what I was reading in the books (reptile info on the web was still very sparse at the time) was not always right and I started adjusting my care based on my experiences and what I was seeing with the animals and how they lived in the wild. I thought if I set them up as close as I can to how they live in the wild, they should hopefully thrive in captivity.
Christmas of 1994 was full of new reptile related presents for me and my Grandma bought me my first issue of Reptiles Magazine, and a yearly subscription. Since then I have continued my subscription and have spent countless hours reading an re-reading every issue cover to cover. That magazine opened my eyes to what the rest of the reptile world had to offer and my passion intensified even more for reptiles. Over the next years my reptile collection grew along with my fascination and I soon had many different species in my care. Keeping so many different types of reptiles at a young age allowed me to learn huge amounts of information about them and really prepared me for where I am now.
The Next Years
I continued my fascination with reptiles thru my childhood years and into my college years. I had always dreamed of working with animals, especially reptiles in some way, and when I graduated high school I started going to college with the goal of working towards a biology or zoology degree. My idea of the perfect career was working in the zoo industry. The only other passion in my life that came close to my animlas was motocross racing. In 2002 I ended up following that passion and I moved to Stillwater, Oklahoma and purchased a motocross track. I ran that business and track successfully for the next 5 years, while still keeping reptiles and at some points, even trying to figure out how to incorporate a reptile "zoo" into my motocross facility.
Early on in my time in Oklahoma, I found out that Bob Clark stationed his facility near me and I decided one day that I would call him up and see if I could volunteer to work there to be close to the animals and learn from his years of experience. It was an unbelievable experience; which I thank Bob Clark immensely for! What more could a guy who lives for their stuff ask for; cleaning cages, feeding animals and being surrounded by some of the most amazing reptiles in the world was a dream come true! I continued to help at Bob's facility for the next 5 years; when ever time would allow until the week I sold the motocross facility and moved back to Wisconsin to be closer to my family and work for my parents construction company. I decided to sell my motocross track because of the looming signs of the bad economy and high fuel prices that would surely impact my business, but I was actually very disheartened that I would no longer be able to help at Bob's shop. That experience showed me a wealth of knowledge and took my reptile fascination to another level. I spent the next 6 years working for my parents construction company while expanding and developing my reptile collection and thinking about how I could figure out a way to work with them on a daily basis and support my family from it.
The Craft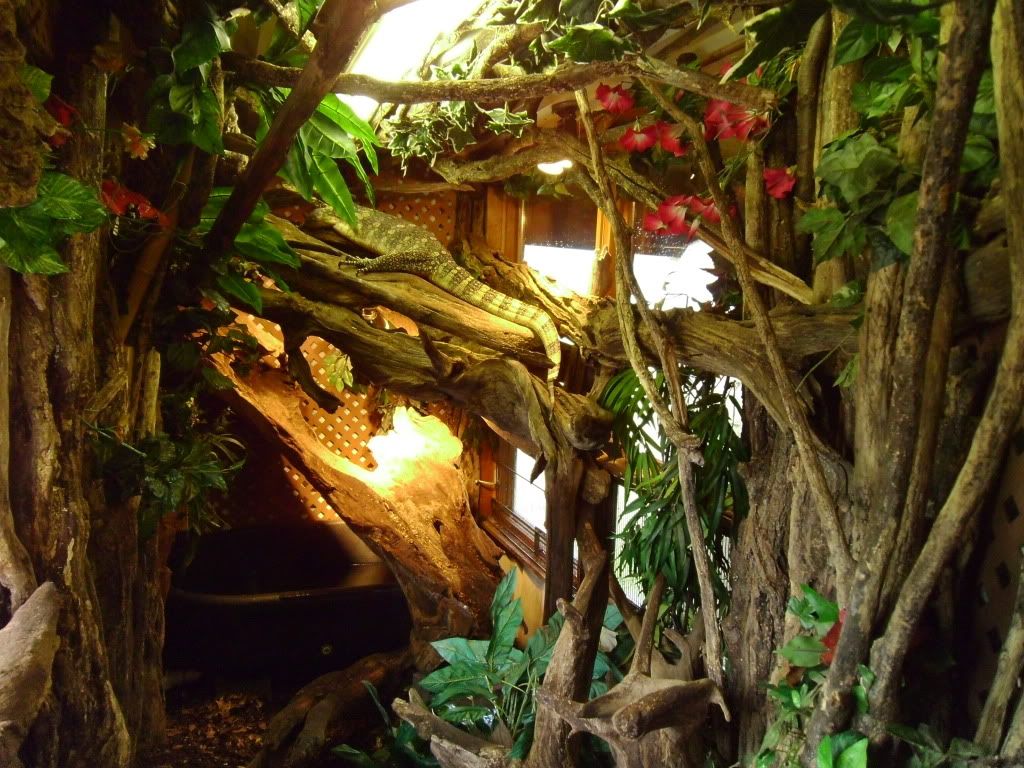 Growing up around and in the construction industry has allowed me to develop the skills to construct some very purposeful and naturalistic enclosures for my animals and I attribute this to a large part of my success with them. I spend large amounts of time watching my animals as well as reading information and talking to others to learn from their experience, an it has allowed me to understand their actions and needs. I take huge amounts of pride in being able to replicate the natural conditions that allow the animals to flourish as much as possible in captive conditions. Care, maintanance and breeding also comes easier with these enclosures. Watching my animals behave as they would in the wild is the biggest thrill for me as a keeper and breeder. I can sit for hours and just watch them as they go explore and live in their environments.
Our Future
In 2006 I met my incredibly amazing and beautiful wife Roxy who has been supportive of and taken interest in my passion for animals since day one. We have now grown our family to include two amazing little girls; Aryanah and Jersey, who have followed my passion for animals of all kinds, especially reptiles. Family trips for us consist of checking out reptile shows and zoos where ever we go. In the fall 2010 Roxy and I decided that we would expand our collection and focus more on breeding certain species to get a feel for the reptile industry. That brings us to 2011 where we started Vital Exotics, a dream of mine since I was a little kid with a Box Turtle in his room. There has not been a time in my life, after that first Box Turtle, that I have not had reptiles in my life. They are there one thing that has stayed a passion of mine the whole time and they have taught me a huge amount about life. I have kept and or bred well over 30 different species of reptiles over the 20+ years that I have been involved with them. Many of those same animals are still in my care to this day.
Our goal is to bring joy, responsibility, education and fascination to people of all ages including reptile keepers and the general public. Keeping reptiles has taught me and countless others huge amounts of responsibility on a personal level and a responsibility and appreciation for our world and its wildlife as a whole. Thank you for joining the Vital Exotics Family as we all continue to make people smile.